I'm linking up with Ashley for the first time today!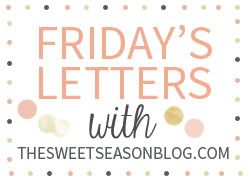 Dear First Birthday Party,
I'm so excited for you, but you're stressing me out! I feel like you keep forcing me to add more things to my to-do list. Please stop.
Dear Carson,
When did you all of the sudden turn into a big boy? You never crawl anymore. You are ALL over the place. And....ever since your FOURTH haircut, you look like a big boy. Please slow down!
Dear Couch to 5k,
You think you can defeat me, but I'm going to keep on keeping on. Please be nice though and quit giving me those 5 minute run sessions. I'll go back to the couch if I have to!
Dear Warm Weather,
I love you. Please stay forever and invite the sun while you're at it. Tell the rain to swing by overnight to help my flowers!
With Love,
Emily :)