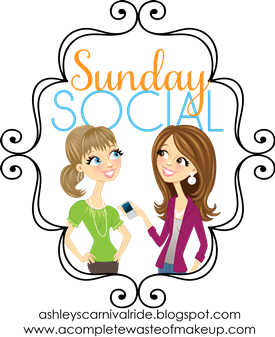 It's been a while since I've participated in Sunday Social and even though summer is my favorite holiday, I'm linking up for some fun fall questions!
1. What is your favorite fall activity?
Going for walks in the cool, crisp air. Visiting the pumpkin patch. Decorating for fall.
2. Do you follow a football team? If so, which one and why?
THE Ohio State Buckeyes! O-H! I follow the Bucks because they're the best! Plus I was born and raised in Columbus, Ohio. :)
3. What is something fun about fall in your area? About 30 minutes away there's a small town that hosts an annual pumpkin show/festival. It's pretty crazy and lots of fun!
4. What are your favorite fall staple outfits?
I LOVE skinny jeans + boots + a comfy sweater. I also live in cardigans
all year
in the fall. :)
5. What things are his looking forward to most about this coming fall season? I can't wait to take Carson back to the pumpkin patch! He was so little last year and I just know he's going to love it this year! I'm also super excited to get a caramel apple from the farm where we get our pumpkins!
6. What is your favorite fall holiday? Tradition?
I do like Halloween, especially now that I have a little cutie to get all dressed up in a costume BUT I think Thanksgiving is my favorite. I love getting together with family and eating delicious food! Even though Thanksgiving is my fav, I'm still super pumped to find an adorable costume for Carson for Halloween this year! Here are some pics from last fall: