Get your mind out of the gutter, I'm talking about presents! Today I'm linking up with Allie and Kay for Wedded Bless Wednesdays! Click the button below so you can link up and check out the other entries!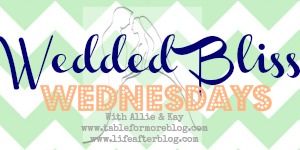 This week the topic is GIFTS. Who doesn't love buying and receiving gifts?! This post gives me a little anxiety because I feel like I need to get on the ball with Christmas shopping. I know it's still (barely) October, but I need to at least start making a list of ideas for everyone! Anyway, here are my answers to this week's questions!
What is the best gift to give your husband?
The best gift to give Nick is probably something tech related. He loves anything and everything electronic. He also loves watches (I think he has about 8) so a watch is always good. Not just any watch though, he's picky! They have to be solar powered and have other fancy features.
What is a meaningful gift that you can give that does not cost money?
I love making homemade cards for Nick with special notes inside. I used to do this more often, but I need to get back into it! I always write a note in any card I give him but the homemade cards are much more meaningful in my eyes! He also makes quite a few of my cards and I *love* them! (We both have saved every card we have ever gotten from each other and it's so fun to go back and look at them together!)
Homemade coupons are always fun, too! They can be naughty or nice and they can be super simple or more involved - it's totally up to the creator!
What is the best gift you have given to him?
You would definitely have to ask him! Hopefully he might say our son, Carson. ;)
What is the best gift he has given to you?
I guess this is where I should say Carson, right? :) I really do believe that BUT Nick has given me a lot of other great gifts too...diamonds, purses, etc. My favorite gift was the gift to let me stay at home this year to take care of Carson! <3
What are you giving this holiday?
Like I said above, I have no idea what I'm giving yet and it gives me anxiety! I'm hoping to make a list of ideas soon because I have a lot of people to buy for!