It's Wednesday which means I'm linking up with Allie and Kay! This week's question:
What is a holiday tradition that you and your husband do or plan to do each year? If you don't have any, what is an idea you could try out this year?!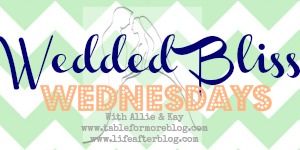 I LOVE traditions! I didn't have a ton growing up so I'd like to instill a ton with my own family now to make up for lost time. ;) Now that Carson has joined our family, I'm even more excited about starting traditions. Here are some traditions that we've started and also some that we want to start. And when I say we, I mean I. My husband just goes along with it all to make me happy. Bless his heart!
Watch a Christmas movie when wrapping gifts.
When I was little, my mom
always
watched 'It's a Wonderful Life' when wrapping presents. I love carrying on this tradition. I watch any Christmas movie, though. I know Carson will appreciate my flexibility once he's old enough. I hated watching anything black and white when I was little. (Now I love it!)
Open one gift each on Christmas Eve.
This is another tradition we had with my mom. My sister and I would get SO excited and (usually) we were allowed to choose the gift! Nick and I have done this every year and I love it! I'm going to continue this tradition with Carson, but I'm going to give him the same thing every year: Christmas PJ's! That way he can wear them when Santa comes! I'd like to add to this tradition and also give Carson a movie or book that we can enjoy together on Christmas Eve. Carson has been sporting his Christmas jammies since after Halloween this year! (Only because I was worried he would grow out of them!) Don't worry, I have a brand new pair wrapped up for Christmas Eve.
Elf on the Shelf.
We won't be starting this tradition for a few years, but I'm already so excited! This year I have seen so many fun and creative ideas on Pinterest and Instagram! I can't wait until Carson is old enough to understand and name his special elf!
Visiting Santa Claus.
This may seem obvious, but I know people who said they don't bother going! This is another tradition I'm carrying on from when I was little. (Maybe we had more traditions than I thought?!) I remember going to the shopping mall downtown to visit Santa. Every year I got to wear my fancy Christmas dress. I was so excited to see the talking tree and go to the Secret Santa Shop to buy gifts for my parents! Unfortunately that mall closed, but I still plan on taking Carson to a mall every year to see Santa!
Baking Christmas Cookies. Ok, I lied. I had tons of traditions when I was young! (Thanks, Mom!) This is yet another one that I remember and love. Every year we would bake special cookies for Christmas. Not cookies that you bake in March or July, special Christmas cookies! My mom always made her peanut butter blossoms and used my Grandma's cookie press to make those little flower cookies with red and green sprinkles. I try to make the peanut butter blossoms every year and I'm also loving finding new recipes to try!
Ornaments.
This is a new tradition I would like to start with Carson. Each year, we'll buy him a new ornament. I would like to try to get one with the year on it so he can look back and see which ornament is from which year. I used to
hate
the idea of a mismatched tree with all of those random ornaments. Ever since Nick & I lived together I would put up my coordinating teal and silver bulbs and I loved the cohesiveness. Now I really regret not buying each other ornaments each year. Especially since this is our
10th
Christmas together! I can't wait to fill the tree with Carson's annual ornaments! Maybe I'm loosening up on these OCD tendencies since becoming a Mom? Here's one of Carson's first ornaments. Check out
my post
explaining how to make one of your own!

What is your favorite holiday tradition?