Last week I really embarrassed myself so this week let's take it easy. :)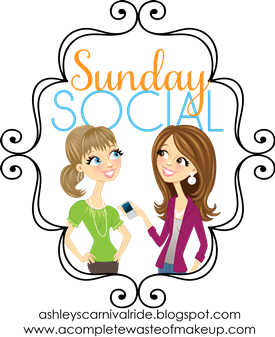 Before I answer these questions, let me just say that Valentine's Day isn't my favorite holiday. That's not to say I don't like it or think it's a "Hallmark holiday". Remember my Valentine's decorations? Obviously I like the holiday! It just isn't a holiday that I always go to great lengths to celebrate. Maybe some candy or flowers, but I never expect anything outrageous!
1. Best Valentines Day you've ever had
:
Any of the Valentine's Days with my husband! We've been celebrating together since 2003. Each year he does something special for me ...usually fresh flowers. :) I always try to bake him a special dessert and for the past few years I've made him something red velvet. This year I switched it up and went with a double chocolate cake with Valentine's M&M's! Here are some of our Valentine's past:
Out to a fancy romantical dinner!
Gift from the hubby, super thoughtful! :)
I'm always super serious.
2007 Valentine's dinner....my cooking skills have improved and our house is SO different!
2. Worst Valentines Day you've ever had
:
February 14, 1995. That's the day my sweet sweet Grandma Cathy left to be with God and watch over us. I miss her dearly and can't even begin to describe how much I wish she could miss Carson. Her maiden name was Love and her passing on Valentine's Day just seemed so meaningful. She was definitely full of love, that's for sure!
3. What do you plan on doing for Valentines this year?
Since Valentine's Day fell on a Thursday we didn't do anything ON the day. I actually met up with a friend and her daughter to go to a story time at a local bookstore then walk around the mall! That evening we had a nice dinner (heart shaped pizza...you may have seen on my Instagram!) and the cake I mentioned in #1. We did go on a date on Friday night though! We don't go on many dates without Carson so we were pretty excited! It was also my mother-in-law's first time babysitting. We just went out to a quick dinner close to home, nothing fancy. Oh, and on Valentine's Day Nick surprised me with flowers, chocolate, and a card in my car while I was at the bookstore! <3
4. Best Valentines Idea if you're single
:
Go buy some delicious candy, a bottle of wine and hang out with friends! Is that a good idea? I haven't been single during Valentine's Day since 2001 (I think I was single then?) so I'm a little rusty! :)
5. Favorite Valentines Candy?
This is hard. I LOVE those Reese's Valentine's hearts. YUM. Nick usually buys me Lindt Lindor Truffles for special occassions too and I love those...especially white chocolate! This year he bought me a bag of milk chocolate and a bag of white chocolate!
6. Favorite Valentines Memory from your childhood
:
My parents were divorced so I usually didn't get to see my Dad for Valentine's Day. When I was little he always stopped by my mom's early in the morning and would leave flowers and a card on the porch for me. It was such a nice thing to look forward to each year and everyone knows girls love getting flowers!