If you know me at all, you know I love anything to do with Oreos. I like them plain, dipped in [chocolate almond] milk, in my fro-yo, in cakes, in cookies, in cupcakes, you name it! When I saw these cupcakes on Six Sister's Stuff, I knew I had to try them out. Brownies + Oreos + Cupcakes? It's impossible to be disappointed! Please take a moment to appreciate that I actually took the time to use my big girl camera for this post!!
1 box of brownie mix
1/3 cup of vegetable oil
1/4 cup water
1/4 cup sour cream (I use reduced fat)
3 eggs (I use Egg Beaters)
half a banana mashed (not pictured)
1 teaspoon baking powder
1/4 cup flour

Preheat oven to 350. Mix all ingredients together. Put them in cupcake papers and bake. Bake for 18-20 minutes. (The original recipe also gives the baking time for mini cupcakes: 10 minutes.)
Note: I'm not sure the purpose of the banana in this recipe. You can definitely taste it after baking and while I don't mind it, my husband kept saying there was some "weird" flavor in the cupcakes. I didn't confess that I put banana in because he probably wouldn't eat any more of the cupcakes. Yes, he's picky like that!
The original recipe did not call for filling but since I was acting like I was on Cupcake Wars, filling was a must! Plus my awesome husband got me a little gadget to help fill cupcakes for Christmas and I hadn't been able to use it yet!
Oreo Filling
:
1 box Jello Oreo instant pudding
1 container Cool Whip (I used fat free), softened
Using an electric mixer, blend your pudding with the Cool Whip. Once your ingredients are completely combined, fill your cooled cupcakes. This can be done with a pastry bag or your own preferred method. The filling is pretty thick since it's made with pudding so if you'd like to thin it out at all I would suggest adding some milk. Keep in mind it will thicken as it sits since it's made with pudding mix!




Cookies n' Cream Frosting

:
1 cup of butter (I used I Can't Believe It's Not Butter)
1/2 cup of shortening
1.5 lbs powdered sugar
1/4 cup brown sugar
1/2 cup flour
1 tsp vanilla extract
2-3 tablespoons milk (I used skim)
about 10 finely crushed oreos

Cream together butter and shortening. Add in sugars and flour, then add vanilla and milk, then add the oreos. I used my food processor to make sure my oreos were very finely crushed so they would fit through my pastry tip!
This makes a TON of frosting! I actually had enough leftover to ice a little 2-layer cake! Feel free to half the recipe for your cupcakes unless you plan on loading them up with icing!
Note: I am usually pretty OCD about following recipes so it concerned me when this recipe called for 1.5 pounds of powdered sugar and powdered sugar only comes in 1lb bags! Then I remembered I had this adorable little pink kitchen scale so I was able to measure a 1/2 pound out of my 2nd bag! Also, let's not talk about the amount of sugar and butter in this recipe...I promise it's worth it!
Tell me this doesn't make your mouth water? I'm not typically a cake snob and I do make box cakes from time to time but these are totally worth your extra time!
I'm linking up with these parties: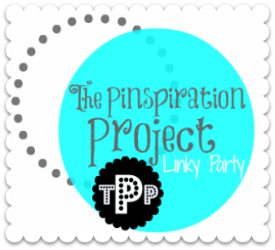 Here is the original pin: