It's Sunday
evening
night and I'm not tired and Carson is in bed so I decided to link up for my first Sunday Social!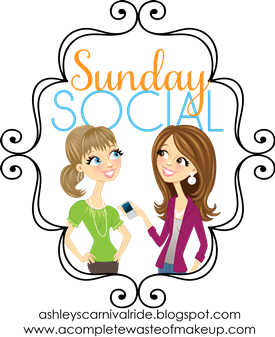 1. What is the name of your blog? How long have you been blogging? My blog is Simple Suburbia and I started this blog October 2012. I've been blogging since August 2010, but started out with my old blog [Playground Duty].
2. Why do you blog? I love to share what's going on in my life. It's a good place for friends to catch up with what I have going on. I also like that I can record memories that are being made. I also LOVE "meeting" people from other blogs. Oh, and let's be honest, if I couldn't share random things through Instagram or blogland (nails, food, crafts, etc.), I wouldn't be nearly as productive!
3. What is the first blog you ever followed? I honestly can't remember. I know it was a teaching blog because I originally got into blogging to find ideas for my teaching!
4. What is your favorite post you wrote in 2012? My favorite post would definitely be 'How I Met Your Father'. I loved revisiting all of the memories I have with my hubby and I also feel awesome for being so super creative with my post title! If you're new here, please know I'm often sarcastic.
5. What are your blogging goals for 2013? In 2013 I want to make sure I blog on a regular basis and keep my blogging meaningful. Simple enough, right? :) I also hope to "meet" some more blog friends. Does that sound nerdy enough? :)
6. Top 3 favorite blogs to follow? I have sooo many. Here are a few that I love:
Erin's Living in Yellow because she's hilarious. That's the only reason I need.
AP's LYMTC because she's super Mom and I can't get enough of her Mac-a-doodle!
Katie's KC&CO because I have to know what's going on in Rocky's life! Also, she lives right across the street from me so that's fun, too!
And just for fun, here's a recent pic of me with my family.