You all know how much I love my dogs, right? Chip & Dixie were my first babies. They're litter mates and they'll be 8 in May (stop!). Chip is the sporty dog that will play fetch all. night. long. The vet has even been known to brag about Chip's muscular legs. Seriously, he showed the nurses and the front desk staff and was bragging about how impressive it was. [Proud dog mom!] Dixie is the typical girl dog. She's super cuddly and loves all the sweaters I
make
let her wear. :)
Proof of Chip's fetch obsession:
Dixie licks anything and everything. She's a lover and likes to give kisses.
Since I love my pups so much, I decided to make them some homemade dog treats. They love any treats, but I was feeling guilty after seeing so many [super easy] homemade dog treat recipes on Pinterest. I finally chose one to make and I'm so glad I did! Next time I'll probably half this recipe since I have smaller dogs, but the
original recipe
would be perfect for bigger dogs! (I baked about half and saved the rest of the dough to make later.)
What You'll Need
2 cups whole wheat flour
1 Tbsp. baking powder
1 cup peanut butter
1 cup milk (I used skim)
Making the Treats
Preheat your oven to 375 degrees.
Combine flour and baking powder in a medium bowl.
In another bowl, mix peanut butter and milk. I used my hand mixer for this step.
Slowly add the dry mixture to your wet mixture and blend together.
Roll dough out on a lightly floured surface. Roll to about 1/4" thickness. Use a cookie cutter to cut out your treats just like you would with sugar cookies.
Place your treats on a greased baking sheet and bake for 20 minutes or until lightly brown.
Store your treats in an airtight container.
I didn't have a dog bone cookie cutter (where do you even buy that?!) so I used a cat. See what I did there? :)
Chip and Dixie LOVE these treats. I told them to "go to bed" for a cookie and they ran over right away. Oh, and these made our kitchen smell amazing. I need to make some human peanut butter cookies now!
What have you made for your pets?
I'm linking up to a few blogs: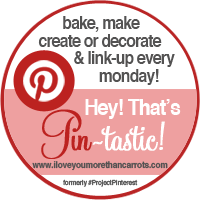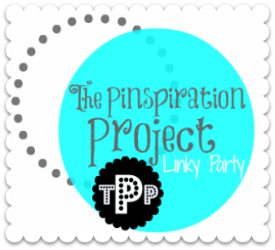 Here is the original pin: