I'm linking up for Sunday Social again! How did I just now discover this fun link up?!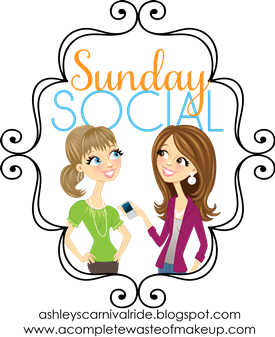 Top 3 Favorite Kinds of Food:
1. Pizza
2. Cookies
3. Chicken
Check out my Pinterest or my meal planning calendar and you'll understand. Most of our "meat" meals are chicken or turkey based..mostly chicken. Cookies (or any dessert) are my weakness!
First 3 Things you do in the morning:
1. Check the monitor if I haven't heard Carson yet.
2. Brush my teeth.
3. Take my blood pressure medication and vitamins.
(I may or may not be an old lady...)
Last 3 Things you do at night:
1. Kiss the hubster goodnight.
2. Check on Carson.
3. Snuggle up with my electric blanket and then realize I can't fall asleep so I check facebook & instagram, play Scramble, read my nook, etc. I'm an insomniac!
3 TV shows you NEVER miss:
1. Modern Family
2. Shameless
3. Teen Mom 2 (judge away....it's a guilty pleasure!)
(These are only shows that are on currently. I also never miss Dexter!)
3 Places you want to visit:
1. Hawaii (again)
2. Mexico
3. California (we have free tickets and have yet to go!)
3 People you can always count on:
1. Husband
2. Momma