I'm linking up with
Allie
and
Kay
again for Wedded Bliss Wednesday! Click the button below to check out the other entries and link up yourself!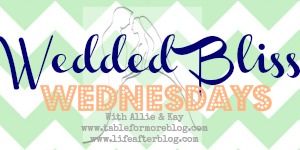 This week the questions are about your man's style....or lack there of! :)
What is your husband's style?
I asked Nick just now "What do you think your style is?" His answer? "Casual Cool." HA! I think that's actually pretty cute and accurate. He definitely dresses for comfort. When it's cool you'll find him in jeans and when it's warm you'll find him in khaki cargo shorts. The only time this changes is for work (he wears khakis or gray slacks EVERY day) or for a special event when he has to dress up. As far as tops, he used to live in polo shirts, but now he's more into t-shirts and sweaters. I LOVE the Mossimo athletic fit shirts from Target b/c they fit his thinner athletic frame so well!
What is your LEAST favorite piece(s) of his wardrobe?
I buy most of his clothes so I like most of them! He does have some really old stuff that I don't care for but I'm working on donating those pieces one by one, hahaha! Shhhh....
If you have a picture show us!!
Dressy attire at Carson's baptism. Nick owns probably 5-7 ties total and refuses to buy more since he only wears them a few times a year. I love him in a tie though!
Typical warm weather gear: t-shirt and khaki cargos!
Also, you'll rarely catch him without these sunglasses. He even wears them inside. Too cool.
If he isn't in a t-shirt, it's a polo!
In the fall, OSU gear is a MUST! He also rocks the 5 o'clock shadow quite often because his beard grows about an inch per minute. Seriously.
Summer uniform again.
What would you love for your man to wear?
I would LOVE if he had to wear a tie every day to work! The only time he wears ties is for weddings and he hates them, but I love how he looks in a tie! I would also love if he would wear some tan/brown/argyle/anything-but-white socks to work. He honestly wears white athletic socks with his brown work shoes and khakis....SO stylish! Casual Cool, remember?! :)